For the second straight game, LeBron James put the entire burden of his franchise and the city of Cleveland on his back.
The Cavaliers have yet to capture an NBA championship in their 46 years of existence, while Cleveland has gone over five decades without a title celebration.
Facing elimination for the second consecutive game, James submitted proved he is the most difficult opponent to finish in league history. 
Throughout his career, James has posted an average of 32.5 points per game with the season on the line, the highest average with a minimum of five games played in league history.
James provided much more than scoring during a dominant 115-101 victory in Game 6, moving the Cavaliers within one victory of claiming the Larry O'Brien trophy.
The four-time MVP poured in 41 points, matching his total from Game 5, punctuating a dominant second half with perhaps the best fourth quarter of his Hall-of-Fame career.
Cleveland capped off a 48 minute thrashing, as the team led throughout the entire contest, with James pouring in 17 fourth quarter points on 6-of-9 shooting to go along with four assists and two blocks.
The Warriors simply ran out of solutions for James. During a second half stretch, James scored or assisted on 27 consecutive points, foregoing his usual break time to remain on the floor in an effort to ensure there would be a Game 7 in the series.
Anytime the ball went up in the air, James seemingly was waiting to throw it down.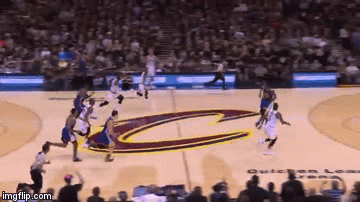 "He looked at me and I was like, I just didn't want to come out," James said. "I felt like those first couple minutes of the fourth quarter were going to be very important, and I just wanted to be out there for my teammates and try to make some plays happen, and I was fortunate enough to do that."
When the night was over, James tallied 41 points on 16-of-27 shooting, 11 assists, eight rebounds, four assists and three blocks, reaffirming his proclamation from a year ago about his status as the best player in the world.
Two of those rejections came at critical junctures in the fourth quarter, as he rejected a fast break layup attempt from Draymond Green, then swatted a drive to the rim from Stephen Curry further frustrating the MVP of each of the last two seasons.
As James was thriving, keeping Cleveland's title hopes alive, the series slipping away from the Warriors became tangible.
After battling foul trouble all night, mainly as a result of pressing defensively to force turnovers, Curry was ejected as he tried to bat the ball out of the hands of James with four minutes remaining.
Curry whipped his mouthpiece into the stands, resulting in a technical foul.
Golden State's point guard knocked down six shots from 3-point range, part of a 30 point outing, but his point production was no match for the furious start from the Cavaliers.
Cleveland scored the first eight point of the game and limited the Warriors to just 11 first quarter points, their fewest in any single quarter during the entire 2015-16 season.
Curry managed to find his shooting touch and even managed to get to the foul line nine times, but his ability to facilitate the offense was severely limited.
The 27-year-old guard dished out just one assist, his fewest in 96 appearances this season.
Part of the frustration was the complete domination exhibited by James.
The 6-foot-9 forward is leads all players in points scored (181), assists (51), steals (16), blocks (13) and is tied with Tristan Thompson with 68 total rebounds through the first six games of the 2016 NBA Finals.
In 17 potential elimination games, James is averaging 32.9 points, 10.8 rebounds and 6.9 assists per game, with his team posting a 9-8 record.
Against the greatest regular season team the league has ever seen, with the Warriors setting an NBA record with 73 victories, James has been even more remarkable in must-win situations.
James has averaged 41 points, 12 rebounds, 9.0 assists, 3.5 steals and 3.5 blocks during consecutive elimination games.
Only one victory stands between the Cavaliers and ending a 52-year title drought for the city of Cleveland.
James is well aware of the magnitude.
"Our antennas have to be up throughout the course of a 48-minute game on every possession, because as soon as you make a mistake, they get a three here, they get a slip to the rim here," James said. "The last few games our antennas have been razor sharp."