A year ago LeBron James came as close as anyone to dragging an entire franchise to a title by himself.
Monday night in Oakland, James had plenty of help.
The duo of James and Kyrie Irving both poured in 41 points — becoming the first pair of teammates to register 40 point performances in a championship game in league history — provided enough of a lift to ensure the Cavaliers would play at least one more home game. 
"I think the main thing is that we were able to give ourselves another chance," James said. "I had to come out and do some things to help us win that ballgame, and tonight was just another example of that. Understood the magnitude of this game. I knew how great of a team we were playing."
Cleveland ran out of opportunities following Game 6 during the 2015 NBA Finals, as James was forced to play without Irving or Kevin Love, as injuries kept them out the final five games of the series.
James drew plenty of criticism, not for his performance (as he became the first player ever to post the highest averages in scoring, rebounding and assists during an NBA Finals round) but for dubbing himself as the best player in the world, when Golden State guard Stephen Curry was crowned MVP.
His performance Monday night made the words James spoke a year ago ring true.
The 31-year-old thrived in the absence of Draymond Green, as the All-Star forward was suspended for the game after picking up his fourth flagrant foul of the post season late in the fourth quarter of Game 4, posting 16 rebounds, seven assists, three steals and three blocks along with his first 40-point outing of the 2016 post season.
To win their first title in 40 years, the Warriors needed to win three consecutive games.
For the Cavaliers to claim their first title in franchise history, they will not only have to replicate what Golden State did a year ago, but also make NBA history in the process.
No team has ever been able to erase a 3-1 series deficit in the NBA Finals and only two have even been able to force a Game 7, but with James playing at another level, with Irving there to join him, a comeback is within the realm of possibilities.
While James has been dominant, averaging 28 points, 12 rebounds, 8.0 assists, 2.4 steals and 2.0 blocks per game during the series, the effective play of Irving helped keep the season alive for Cleveland.
Irving has shaken off a slow start to the series, as he struggled in the first two games at Oracle Arena, he thrived against the first unanimous MVP in league history on his home floor.
Seemingly every shot Irving hoisted at the rim found its way through the net.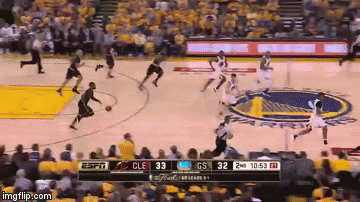 Irving connected on 17-of-24 attempts from the field, including 5-of-7 from 3-point range, as he tallied 41 points, six assists, three rebounds, two steals and a block.
"You've got a guy like this who is very special, it's probably one of the greatest performances I've ever seen live," James said. "To put on the show that he did, you just go out and follow the keys and play winning basketball, and we did that tonight."
From every space on the floor, Irving was able to connect consistently. The 24-year-old shot 70.8 percent from the field, hit 71.4 percent of his shots from 3-point range and 100 percent at the foul line.
"To repeat a performance like this would definitely be tough, but whatever it takes to win," Irving said. "We understand the magnitude of what Game 6 means for us at home, and we know that it will be an incredible level that they're going to play at, and we have to play at an even better level."
The former Duke star is outplaying Curry in the series, averaging 28.1 points, 4.6 assists, 3.4 rebounds and 2.4 steals per game, while Curry is posting 22.2 points, 5.4 rebounds, 4.6 assists and 0.8 steals a night.
The 82 points Irving and James combined to score was the third most by any duo in NBA Finals history. Lakers duo Elgin Baylor and Jerry West combined to score 87 points in Game 5 of the
Rick Barry and Jim King teamed up to score 83 points for the Warriors against Philadelphia in Game 3 of the 1967 NBA Finals.
At least for one night, the Cavaliers managed to silence their critics.
"We stopped caring about what everyone else said," Irving said. "The value of both of us as well as the rest of the team and how we're spacing is very important, and it just took a while to figure that out. But once we did, we just play our game and play basketball. That's what it's about."