The 2015-16 campaign for Stephen Curry was all about reaching new levels.
After carrying Golden State to its first title in 40 years, the accomplishment was dismissed as a lucky run by Clippers coach Doc Rivers — a comment he later said came out of context — Curry knew repeating as a champion would be a difficult task.
On media day, the 6-foot-3 guard addressed exactly what would be necessary to join the Lakers, Celtics, Pistons, Bulls, Rockets and Heat as the only franchises in NBA history to ever win consecutive titles.
"We are going get everyone's best shot every single night," Curry said. "We can't just think we are going to be the same team and show up and win 67 games and win a championship. It's not going to be easy."
Only with six games remaining in the year, Golden State has produced a formula to manufacture wins at a rate the league hasn't seen since Michael Jordan and the Bulls were at their peak.
The Warriors record stands at 68-8. Not only has the team managed to set a franchise record for victories for a second consecutive season, if Golden State wins five of its final six games, it could surpass the 1995-96 Bulls for the most regular season wins.
Remarkable efficiency has been the catalyst for success this season, as the Warriors lead the league in scoring at 115 points per game, while posting the highest offensive rating in the league (114.4) and fifth best defensive rating at 103.6.
The numbers translate into Golden State producing 114.4 points and surrendering just 103.6 per every 100 possessions.
The versatility of Draymond Green has been vital, as he is capable of defending all five positions on the court and is on the verge of becoming the first player to ever average at least 13 points, 9.0 rebounds, 7.0 assists and 1.0 blocks per game during the course of an entire season.
For the second consecutive season, Klay Thompson earned a roster spot on the Western Conference All-Star team, increasing his scoring average to 22.4 points per game, while burying 260 shots from beyond the arc, the second most in the NBA.
Thompson's total ranks as the seventh most 3-point shots ever made in a single season in league history, but Curry has managed to produce 30 percent more conversions from beyond the arc this season.
A year ago, the 286 shots Curry made from 3-point range broke a record he held, has since been obliterated by his torrid shooting pace this season.
The staggering numbers Curry has compiled this season extend far beyond his league-leading averages of 30 points and 2.2 steals per game to go along with 6.5 assists and 5.4 rebounds a night.
The 27-year-old has combined volume long range scoring with amazing efficiency, as he has knocked down 369 shots from 3-point range while converting 45.6 percent of his attempts, third best in the NBA.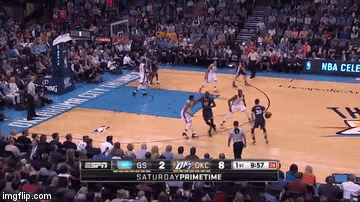 Curry's 269 conversions from 3-point range is just seven fewer than the combined total of James Harden and Kevin Durant, two of the best fantasy performers this season.
There have been 10 50-point performances submitted this season, three have come from Curry.
Each night, there is little question as to the strategy Curry is looking to employ: create just enough space to launch a long range shot. Only there hasn't been a feasible way devised to prevent it from happening.
Opponents have surrendered at least one long range shot to Curry for 145 consecutive games, the longest in league history.
He even matched a record previously shared by Donyell Marshall and Kobe Bryant by sinking 12 shots from 3-point range in a single game this season.
The shooting proficiency isn't limited to beyond the arc, as the former Davidson star is set to become the seventh member of the 50/40/90 club, joining Larry Bird, Reggie Miller, Mark Price, Steve Nash, Dirk Nowitzki and Kevin Durant.
Curry is shooting 50.4 percent from the field, 45.6 percent from 3-point range and 90.2 percent at the free throw line.
The 739 shots he has made this season is the tops in the NBA and his assist total is the 10th highest in the league. Curry has either scored or assisted on 37.7 percent of the total field goals the Warriors have made this season.
His impact isn't limited to the offensive end of the floor, as Curry has matched Oklahoma City point guard Russell Westbrook for the most steals this season, at 157, despite playing three fewer games.
Just five victories stand between the Warriors and an unprecedented win total, as the team has proven their title run a year ago is far from a fluke.
Curry has easily been the most dominant player in the league, not only solidifying himself as the top performer in fantasy basketball, but playing well enough to set one more record.
When the NBA MVP vote is tallied, Curry is deserving to become the first player to win the award unanimously.