Once again LeBron James is toying the idea of building an elite championship contender, only the location has yet to be determined.
As the Cavaliers prepare for a second straight run to the NBA Finals, some recent statements from James may reflect that he will be searching for a new home next season.
James has taken to social media to take perceived digs at teammates before unfollowing the Cavaliers team account on Twitter, as well as Cleveland announcer and former Cavaliers star Austin Carr and ESPN reporter Dave McMenamin. 
Then he even proclaimed to be interested in forming yet another Big 3 combination, only this time with New York forward Carmelo Anthony and Clippers point guard Chris Paul. In an effort to make the scenario a reality, James said he would be willing to take a pay cut.
Prior to the free agent frenzy of 2010, Paul even made a toast at Anthony's wedding of their intent to pair together.
During the same summer, the four-time MVP had to vanish from Cleveland to collect his first two championship trophies, pairing with Dwyane Wade and Chris Bosh in Miami, before returning to his hometown in an attempt to win the first title in Cavaliers franchise history.
The only problem with all the planning for the future is that James has yet to accomplish his primary goal: delivering a title to the city of Cleveland.
The Cavaliers built a 2.5 game advantage atop the Eastern Conference Saturday night with a resounding victory over the Knicks, featuring a triple-double performance from James.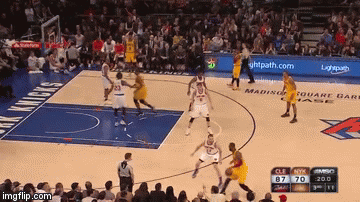 The 31-year-old forward carried the Cavaliers to a 107-93 victory with 27 points, 11 rebounds and 10 assists Saturday night.
With 52 wins, the team is on the verge of clinching home court advantage throughout the playoffs until the championship round.
Only the 2016 playoffs may serve as the final time James is wearing a Cavaliers uniform.
Center
Available in 55% of Yahoo! fantasy leagues
Denver has turned over nearly every low post possession to Nurkic. After pouring in 18 points on 7-of-11 shooting from the field Saturday night against the Lakers, Nurkic followed that up by totaling 19 points, seven rebounds, three assists and a block Sunday afternoon against the Clippers. The 7-foot center out of Bosnia has scored in double figures in six of his last seven appearances and has grabbed at least seven rebounds in three of his last six games.
_______________________________________________________________________________________________
Power Forward
Available in 81% of Yahoo fantasy leagues 
The latest injury setback in Memphis — a sprained right ankle to starting power forward Zach Randolph — opens up even more of an opportunity for Green to become the offensive leader of the team. Friday against San Antonio, the 6-foot-9 forward poured in a team-high 20 points to go along with three assists, two rebounds and two blocks. Since the calendar has flipped to March, Green has emerged as a viable fantasy option, posting 12.6 points, 6.4 rebounds, 2.1 assists and 1.1 steals per game.
_______________________________________________________________________________________________
Small Forward
Available in 61% of Yahoo! fantasy leagues 
Martin has struggled to find his shot since joining San Antonio, as he is converting just 34.1 percent of his attempts from the field, he has remained potent from beyond the arc. The former Western Carolina guard in his 12th season in the NBA has converted 7-of-17 attempts from 3-point range as a member of the Spurs. The Spurs are infamous for resting their star players, especially during the championship week in fantasy basketball, so the reserves may see extended time on the floor.
_______________________________________________________________________________________________
Shooting Guard
Alonzo Gee– New Orleans Pelicans
Available in 99% of Yahoo! fantasy leagues
New Orleans is completely in shambles, opening up a seemingly unlimited amount of playing time for Gee. The player dubbed as "Mr. Average" by league executives last season has produced in his extended opportunity over the last two games. Gee has played over 41 minutes in each of his last two games, resulting in 17.5 points on 60 percent shooting from the field to go along with 5.5 rebounds and 1.5 assists per game.
_______________________________________________________________________________________________
Point Guard
Available in 89 % of Yahoo! fantasy leagues
Felton is expected to remain as the starting point guard in Dallas for at least one more game. Deron Williams is expected to sit out Monday's game in Denver, and he returned to Dallas to have doctors further examine his abdominal strain. As a starter this season, Felton is averaging 11.6 points, 4.3 assists, 3.8 rebounds and 1.0 steals a night. Friday against the Warriors, the 31-year-old guard submitted one of his better efforts of the season, totaling 17 points, five rebounds, five assists and a block in 38 minutes on the court.