Orlando's initial inbound play was too well defended, forcing coach Scott Skiles to call a timeout and draw up another play.
His team was 2.2 seconds away from heading into overtime and all of the momentum belonged to Atlanta, as it poured in 34 points to erase an 11 point deficit at the start of the fourth quarter.
The revised play called for the ball to go to Nikola Vucevic, the 7-foot center that had previously delivered for the team to a last second victory with a clutch jumper agains the Lakers during the ninth game of the season. 
With just one win in its last 12 games, the Magic simply couldn't afford to lose again.
Vucevic ensured it didn't happen.
Elfrid Payton fired the ball into Vucevic as he ran towards the baseline, trying to find some separation from his defender, Hawks center Al Horford. All Vucevic had time for was to dribble once, fade away from Horford and loft the ball.
The 18 foot jumper arched high through the air and hit nothing but net, clinching a 96-94 victory Sunday afternoon.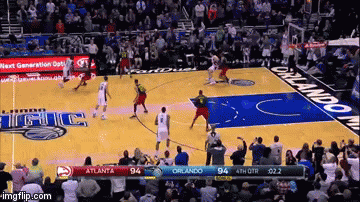 "It is a shot I work on a lot, that turnaround and fadeaway. I felt confident taking it. I knew he wasn't going to let me catch it and get the shot I wanted," Vucevic said. "It looked good when it left my hand. I was confident it was going to go in and I'm glad it did."
Orlando needed a strong performance, as the team went 2-12 in January and dropped each of its first three games this month.
The shot capped a 22 point, nine rebound, two steal and two assist performance from Vucevic and more importantly, gave his team a reason to celebrate.
This time around, the team even saw a major difference in his reaction to the shot.
"I thought it was a grown man celebration, he looked like a baby on the other one," Magic forward Evan Fournier said. "There's not much to say really, it was just a great move. The fadeaway, on the wrong side, it was just impressive."
The Magic needed an uplifting event to avoid heading to the draft lottery for the fourth consecutive season, and once again, Vucevic delivered.
Center
Available in 96% of Yahoo! fantasy leagues
Zeller didn't need much time to provide a major impact during Boston's upset victory over the Cavaliers Friday night. In just 19 minutes, the former North Carolina star tallied 16 points on 8-of-10 shooting from the field. The Celtics are in desperate need of shot blocking, as the team's average of 4.3 per game ranks 23rd in the NBA, and Zeller provided excellent rim protection in his previous outing, swatting three shots in just 13 minute against Detroit Wednesday night.
_______________________________________________________________________________________________
Power Forward
Available in 99% of Yahoo! fantasy leagues
Only teams in desperate need of shot blocking should consider adding Plumlee. In each of his last five games, the 6-foot-11 center has managed to swat away at least one shot, rejecting a total of nine shots in just 77 minutes on the floor. Plumlee doesn't offer much else, as he is posting fewer than three points and three rebounds a night, but is averaging just under a block per game even though he spends just nine minutes a night on the court.
_______________________________________________________________________________________________
Small Forward
Available in 85% of Yahoo! fantasy leagues
The Raptors have received excellent shooting from Ross as of late, as the 6-foot-7 guard has shot 50 percent or better from the field in each of his past four games. While Ross may not be in the starting lineup, he is still receiving plenty of time on the court, spending at least 20 minutes on the floor in each of Toronto's last 10 games, and is worth a look while DeMarre Carroll remains sidelined indefinitely with a right knee injury. Ross has logged just two 20-point efforts this year, but is a proven combustible scorer, with a 51-point game on his resume.
_______________________________________________________________________________________________
Shooting Guard
Available in 97% of Yahoo! fantasy leagues
A shift to the starting lineup has produced plenty of opportunities for Ellington. The 28th overall pick of the 2009 NBA Draft has taken advantage of his stint with the starters, connecting on a 3-pointer in each of his last 10 games and scoring in double figures in each of his last six appearances. Ellington closed out January with one of his best outings of the season, scoring 18 points on 5-of-8 shooting from 3-point range against New Orleans.
_______________________________________________________________________________________________
Point Guard
Available in 96% of Yahoo! fantasy leagues
The absence of Jimmy Butler has paved the way to plenty of time on the court for Moore. The 6-foot-4 combo guard poured in a career-high 24 points against the Kings Wednesday night, then added another 17 points, along with seven assists, as the Bulls fell to Minnesota. In his last three games, Moore has proven to be an unstoppable long range shooter, as he has connected nine times and is converting 69.2 percent of his attempts from beyond the arc.