The 2016 NBA Skills Contest provided big men an opportunity to showcase their playmaking abilities.
Minnesota rookie Karl-Anthony Towns capitalized on the opportunity, proving centers have an all-around game.
The championship round boiled down to a long range shootout with Boston All-Star point guard Isaiah Thomas for the title. 
The two essentially converted a layup at the same time then sprinted down the floor to prepare for the final obstacle in the event, a 3-pointer from the wing.
Towns launched his first attempt prior to Thomas, but his shot fell short and hit the front rim. Three shots later, Towns drained a shot and was mobbed by the other front court participants in the event.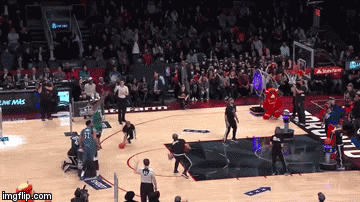 DeMarcus Cousins and Anthony Davis — both attended Kentucky, the same college as Towns — along with Draymond Green celebrated Towns becoming easily the tallest competitor to claim the Skills Contest title.
Prior to Saturday night, Dwyane Wade, a two-time winner of the event, along with Jason Kidd, served as the tallest players to win the event, both standing at 6-foot-4.
Towns, a 7-foot rookie, connected on his first pass through a target in two out of the three rounds, easily weaved through the dribbling obstacles and was a potent enough long range shooter to claim the title.
The event featured four guards, with Thomas, Emmanuel Mudiay, Jordan Clarkson and C.J. McCollum battled Cousins, Green, Davis and Towns.
The beginning of the event saw the players dribble through mannequin defenders, launch a pass through a circular target, race down court to convert a layup, then sprint back to launch a 3-pointer.
In previous years, the competition was timed and the players to compete the course the fastest would advance.
For the 2016 installment, two players ran through the course at the same time and the one to convert a 3-pointer at the end advanced.
Towns easily defeated Green and Cousins in the first two rounds before facing Thomas, a 5-foot-11 guard with a tremendous speed advantage.
According to player tracking data from NBA.com, Thomas runs an average of 4.86 miles per hour when on offense, compared to the 4.23 miles per hour Towns has been clocked at this year.
Both players essentially weaved through the five metal NBA logo mannequins and converted their first pass through the target.
The duo began the sprint down the court at the same time, with the layup from Thomas barely falling through the rim prior to the one from Towns.
In 54 career games, Towns has converted just 18 shots from 3-point range, compared to 107 from Thomas.
Thomas may have been able to connect more frequently, but Towns hit it when it mattered most.
And he gave centers everywhere a reason to celebrate.