Kristaps Porzingis may not have taken home the MVP trophy or led his team to a victory at Friday's Rising Stars Challenge — as Minnesota guard Zach LaVine accomplished both feats — but he left little doubt that he is a rare breed.
Earlier in the month, former league MVP Kevin Durant dubbed the 7-foot-3 rookie a unicorn, as his wide array of skills could make him a fixture at All-Star weekend for years to come. 
In his debut season with the Knicks, Porzingis has provided an immediate contribution, averaging 13.9 points, 7.7 rebounds and ranking seventh in the league in blocks per game, at 1.9 a night.
Porzingis ultimately fell just short of securing a place on the Eastern Conference All-Star team, as his 473,579 fan votes ranked as the sixth most among front court players in the conference.
As Mavericks center Zaza Pachulia proved, any player with enough support from their city and home country (Pachulia is from Georgia) could generate enough support to compete for a starting position on All-Star weekend.
Despite averaging 10 points and 10.7 rebounds a night, Pachulia generated 768,112 votes, fourth most among front court players in the Western Conference, to make an unlikely push into the starting lineup for All-Star weekend.
The efforts from his fans fell just short, as San Antonio forward Kawhi Leonard earned 14,227 more votes to secure a starting spot for Sunday's event.
The complete game of Porzingis makes his selection to a future All-Star less of a long shot.
"Some moments when I stop and think about it, it feels kind of surreal," Porzingis said. "But now that I'm here, I've just got to be focused on what I'm doing, and I can't be thinking, oh, I already made it and that's it."
The fourth overall pick of the 2015 NBA Draft has enough ability to participate at each event during All-Star weekend.
His seamless ability to navigate across the floor with the ball in his hands could pave the way for a spot in the Skills Competition, as the 2016 rendition of the event is comprised primarily with big men, as DeMarcus Cousins, Draymond Green, Karl-Anthony Towns and Anthony Davis will compete for the title.
The Latvian forward has buried 61 shots from beyond the arc through the first 54 games of his career, providing him with the long range ability to possibly compete in the 3-Point Shootout.
Porzingis could even make NBA history, as no 7-foot player has ever won the Slam Dunk Contest (Rockets center Dwight Howard is the tallest Slam Dunk champion at 6-foot-11) as his forays above the rim have been immortalized across YouTube throughout the season.
Fans had to settle for just a lone appearance from Porzingis at the 2016 NBA All-Star weekend, as the Latvian forward showcased all of his talents during the Rising Stars Challenge.
The event featured two teams comprised of international players in their first or second seasons competing against American born players of the same experience level at the Rising Stars challenge.
Team USA escaped with a 157-154 victory despite the efforts of Porzingis.
The 20-year-old needed just 38 seconds to tally his first points of the night, as he buried a long range shot from the top of the key.
Team USA couldn't stop him no matter where he was shooting from, as Porzingis proved to be equally deadly from the perimeter and at the rim.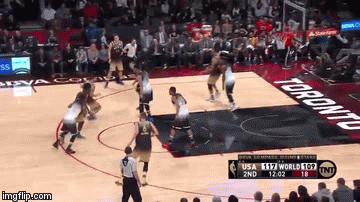 By the time the game ended, Porzinigs had matched LaVine and Nuggets guard Emmanuel Mudiay for the most points in the exhibition with 30 points.
While neither team concentrated much on the defensive end, Porzingis had no problem converting difficult shots, even with a hand in his face.
Porzingis made 12-of-16 shots from the field and converted 5-of-8 attempts from 3-point range to go along with five rebounds, four assists and a block. His efforts nearly catapulted him into MVP honors at the Rising Stars challenge, as LaVine won by a 4-3 margin in voting.
Unlike previous New York players that have submitted a strong showing at the Rising Stars Challenge, Porzingis realizes there are far more important games upcoming, and plans to spend the remainder of the All-Star break resting.
Two years ago Knicks guard Tim Hardaway dueled with Dion Waiters at the event, scoring a game-high 36 points on 7-of-16 shooting from 3-point range.
The only problem is the scoring effort turned out to be the finest effort of his career. Hardaway was dealt to Atlanta last summer and in his first season with the Hawks, he has scored 10 or more points on just two occasions.
Porzinigs has yet to submit a 30-point outing in an NBA regular season game, with his career-high of 29 coming against Charlotte in mid-November, but he is hoping fatigue won't be an obstacle in his pursuit of a new career high during the second half of the season.
"For sure his adjustment to the NBA has been pretty impressive," said World Team coach and San Antonio assistant Ettore Messina. "I think everybody's absolutely believing that he'll be a great, great player in this league."
Instead of sticking around for the All-Star events, Porzingis and his family flew out to a tropical destination to relax.  Through 54 games, Porzingis has played 1,525 minutes, 500 more than he totaled at Seville in Spain last season.
Porzingis is ready to carry the Knicks for the remainder of the season and his opponents should be on edge.