A pair of dunks in the championship round weren't enough to crown a champion in 2016.
Aaron Gordon and Zach LaVine pushed each other to the brink, as the duo busted out jams they never previously tried during a sudden death dunk off round Saturday night.
After combining to submit 10 perfect scores from the judges, the 12th jam of the night finally determined a winner.
LaVine was able to retain his title by soaring from the free throw line and simultaneously performing a windmill through the air.
The overtime session pushed LaVine to the end of his jamming repertoire.
"I was prepared for four. To tell the truth, he came with something that no one else has done. He did two dunks that were just crazy with the mascots, jumping over them," LaVine said. "We just kept pushing each other until the last dunk."
The contest quickly became a two person race, as LaVine and Gordon instantly separated away from Andre Drummond and Will Barton.
A year ago, LaVine's ariel acrobatics ended the contest almost before it began.
Gordon was able to keep the event entertaining by incorporating Orlando's mascot, Stuff, along with his incredible athleticism.
The creativity the 6-foot-9 forward displayed has never been seen during the 31-year history of the event.
"I think all four of my initial dunks had never been done in an NBA Dunk Contest before. So I think that was my goal, and I did it," Gordon said. "I was just hoping Zach was going to miss, and it wasn't going to happen. You could see as my facial expressions when Zach dunks it, it's like okay, that's a 50. Like I know we're going to have to dunk again."
While Gordon was able to excel with his unprecedented creativity, LaVine's raw athleticism enabled him to join Nate Robinson, Jason Richardson, Harold Miner, Michael Jordan and Dominique Wilkins as the only players to ever win multiple Slam Dunk titles.
Wilkins, the former Hawks star that won the event in 1985 and 1990, couldn't decide which player should have won the event Saturday night in Toronto.
After both players threw down a pair of jams that received perfect scores in the championship round, the event moved into sudden death.
LaVine and Gordon each slammed home perfect 50's to open the sudden death round.
The only reason only reason the competition ended was because Gordon threw down an impressive jam, but only received a 47, opening the door for LaVine to take the title.
A windmill from the foul like was enough to win the event, outlasting a valiant effort from Gordon.
"In my personal opinion, man, we did some things that nobody else did. Like half the dunks we did were like professional-dunker dunks, and it takes them four or five times to try it and make it, and we did it on the first try," LaVine said. "This one's been, like I said, I think it's one of the best."
Check out each jam from the amazing contest below.
Under the Legs 360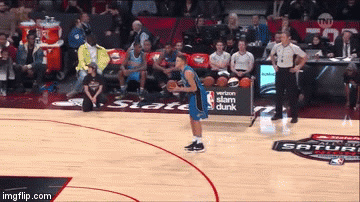 Off the Bounce Dunk
Over the Mascot Dunk
Free Throw Line Alley Oop
360 Dunk
Cupped 360 Jam
Between the Legs over Stuff
Foul Line Windmill Dunk
Off the Backboard
Between the Legs Reverse Dunk
Double Pump Jam
Under the Legs Free Throw