It's been three years since Orlando has managed to find a solution for John Wall.
Any time the Magic tried to stage a fourth quarter rally Saturday night, the answer for the Wizards was to put the ball into the hands of their point guard.
When Washington needed a clutch basket, Wall found a way to deliver. 
The 6-foot-4 guard capped a 24 point, 10 assist, five rebound, four steal effort by ending any hope Orlando had of making a comeback.
A pair of 3-point daggers, one from 30-feet out, sealed a 105-99 victory for Washington, extending its winning streak against the Magic to 12 games.
"We do a great job defensively against this team for some reason," Wall said. "Every game has been close, most games (against the Magic) have been close. We have to compete and fight. It's just we find a way to match their intensity defensively. We we are aggressive defensively, getting steals, we are a tough team to beat."
In 21 career appearances against the Magic, Wall is averaging 19 points, 8.3 assists and 4.3 rebounds.
He wasted no time helping the Wizards clinch a series sweep of his division rivals for the third consecutive season.
Washington opened a double digit advantage at the end of the opening quarter as Wall scored four points and dished out four assists.
This season, he has been especially dominant against the Magic, posting 21.3 points, 10 assists, 4.3 rebounds, 2.5 steals and 1.8 blocks per game during the four game series sweep.
Wall has converted 50 percent of his shots from the field against Orlando this year, nearly seven percentage points above his shooting average for the season.
Seemingly everything he lofted towards the rim found its way through the bottom of the net.
To close out the third quarter, Nikola Vucevic missed a free throw and Washington immediately passed the ball to Wall with just five seconds remaining. The two-time All-Star sprinted up the floor, shook past two defenders and swished a one-handed runner from 21 feet out.
"Closing the quarters is always important," Wizards coach Randy Wittman said. "I thought that was big. You know, that runner, that was a big momentum swing for us. As long as it goes in, it's ok. As soon as it doesn't go in, then we are throwing that one out."
Washington was able to transition closing out the quarters to closing out a victory, something that has proven to be elusive for the 16-19 Wizards.
Once again, it was Wall inicitaing the offense, as he generated the last 11 points of the night for his team. Wall assisted on a Jared Dudley 3-pointer, then scored the last eight points of the night for the Wizards, including a pair of long range shots.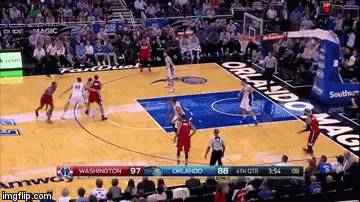 Any time Washington needed a clutch basket, there was no hesitation in letting Wall create either for himself, or the rest of the team.
"In my opinion, he's the best point guard in the NBA," Wizards guard Gary Neal said. "I got 100 percent trust in him. I'm sure my feelings resonate all over this locker room. I'm completely confident in him."
Wall ranks second in the league in assists, dishing out 9.6 per game and is one of just seven players in the league averaging over two steals per game.
The 25-year-old is averaging career-highs with 19.7 points, 2.1 steals per game and his connecting 1.5 times from 3-point range a night.
Through 35 games, Wall has connected 53 times from beyond the arc, after making just 65 shots from 3-point range in 79 appearances a year ago.
Saturday marked the seventh time he has made at least three or more shots from 3-point range this year, as he increased his shooting percentage from beyond the arc up to 34.9 percent.
The city of Orlando has always carried some significance for Wall, as the first overall pick of the 2010 NBA Draft made his NBA debut in central Florida, serving as the opponent as the Magic ushered in the newly built Amway Center with a 112-83 victory.
Early in his career, Wall found it difficult to win against the southeast division rival, as Orlando won eight of the first 11 meetings between the two teams.
As Washington tries to climb back into playoff contention, claiming each victory carries additional significance, especially when snapping a three game losing streak.
"Just to get us back on the right track. We competed on the defensive end for 48 minutes, that was the big thing," Wall said. "Playing against a team like this, that so hard and plays aggressive the whole game, that's what we talk about, that's the key for us."