Portland could get used to to leaving Damian Lillard out of the fourth quarter.
In the midst of a season long seven-game home stand, the Trail Blazers managed to keep their star point guard on the bench for the final 12 minutes of the game as they opened up a 25 points advantage on the Lakers.
Lillard was the primary reason the game turned into a rout following halftime. 
The two-time All-Star poured in 18 of his game-high 36 points in the third quarter, as Los Angeles had a difficult time pressuring his shot from anywhere on the floor.
For the night, the 25-year-old finished with 36 points on 14-of-19 shooting from the field, including 5-of-8 from 3-point range to go along with five assists and a rebound in 29 minutes of play.
Lillard converted three times from 3-point range in the quarter, as he was able to create open looks with his exceptional handle, and quick release.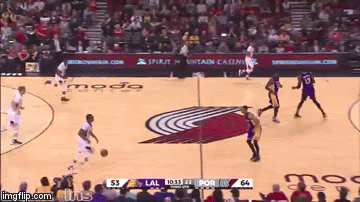 The Lakers were even baited into fouling Lillard as he released a long range shot, resulting in another trio of points.
The exceptional play of Lillard, as he is averaging career-highs with 24.6 points, 6.9 assists and 3.1 conversions from 3-point range each game, has kept Portland in the playoff picture during what was supposed to be a rebuilding year for the team.
Lillard is the only starter from a 51-win team a year ago to return for the 2015-16 campaign. The Trail Blazers even lost Arron Afflalo, the team's sixth man, in free agency last summer.
By taking on an even larger role on both ends of the floor, Lillard has Portland just 1.5 games behind the Kings for the final playoff berth in the Western Conference.
The raw numbers only tell a portion of the story for Lillard, as his usage percentage of 31.1 ranks as the seventh highest and the ball is in his hands for an average of 8.1 minutes per game, more than anyone else in the league.
Few players are providing the complete impact Lillard bring to the Trail Blazers each night and his efforts have proven Portland already has a franchise cornerstone in place.
Center
Available in 95% of Yahoo! fantasy leagues
Plenty of risk comes with adding a 6-foot-11 player with just one double-double on the season, especially when it was posted on Nov. 7th. Only the Wizards are in desperate need of front court production and in his last appearance, Nene was able to provide an impact across the stat sheet. In just over 25 minutes against Miami, Nene totaled 16 points on 8-of-15 shooting from the field, six rebounds, five steals and an assist. In each of his last eight games, Nene has managed to post at least one steal.
_______________________________________________________________________________________________
Power Forward
Available in 91% of Yahoo! fantasy leagues
Midway through his rookie campaign minutes are becoming more accessible for the 10th overall pick of the 2015 NBA Draft. As the injuries continue to mount for the Heat, Winslow is becoming increasingly indispensable, as he has spent at least 35 minutes on the court in each of the past two games. Winslow has scored 10 or more points on just four occasions this season, with none coming in his last 17 appearances, but his ability to rebound the ball is increasing his value in fantasy basketball.
_______________________________________________________________________________________________
Small Forward
Available in 58% of Yahoo! fantasy leagues 
The absence of Tony Allen has created additional time for Barnes on the floor. The last time he received a healthy dose of minutes for Memphis, Barnes managed to produce at a fourth round level, as his ability to pile up defensive statistics, rebounding and 3-point shooting is a rarity in fantasy basketball. Saturday against the Timberwolves, Barnes connected three times from 3-point range as part of a 13 point, five assist, three rebound, one steal performance.
_______________________________________________________________________________________________
Shooting Guard
Available in 98% of Yahoo! fantasy leagues
Thompson didn't need many shot opportunities to provide a huge impact during Philadelphia's victory over the Magic Wednesday night. The former Georgetown star needed just 10 shot attempts to pour in 17 points — his second highest scoring output of the season — and he connected three times from 3-point range. Following a quiet start to the new year, Thompson has poured in 28 points on 6-of-11 shooting from downtown over the past two games.
_______________________________________________________________________________________________
Point Guard
Available in 91% of Yahoo! fantasy leagues
A strained groin has kept Brandon Knight out for the past two games, allowing Goodwin to showcase what kind of impact he can provide at the point guard position in Phoenix. Saturday against Atlanta, the former Kentucky star capped a 24-point performance by sinking the game-winning 3-pointer over the outstretched arm of Thabo Sefolosha at the buzzer. During Knight's two-game absence, Goodwin has poured in 44 points, converted four shots from 3-point range and has earned 19 trips to the free throw line.