A quarter of the way through the 2015-16 season, a variety of players are producing at levels unseen in the league for decades. Or in some cases, ever.
The Pistons don't have to worry about any missed shots, as center Andre Drummond is beating out the competition for missed attempts on a continual basis.
In his fourth season in the league, Drummond is proving to be the most dominant rebounder, pulling down 16.9 a night.
Drummond leads the league in offensive rebounds, defensive rebounds and he is the only player in the league with more than 100 offensive rebounds or more than 200 defensive rebounds.
There have been eight 20 rebound performances in the league this season, five belong to Drummond.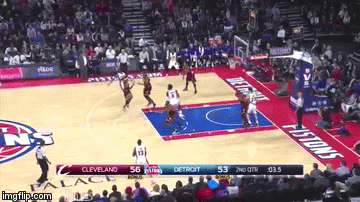 Drummond is rebounding at a rate unseen for over 20 years, and his story is just one of several dominant performances.
Stephen Curry is obliterating every 3-point shooting record as he pursues membership into the exclusive 50/40/90 club.
Hassan Whiteside is blocking more shots than five NBA teams and Kyle Lowry is looking to be the first player in over seven years to steal the ball more than 200 times.
In our latest podcast, we breakdown each of their incredible performances, make way to early playoff predictions, fix your fantasy basketball team and much more.