Each night the role Alexis Ajinca plays in New Orleans varies.
At times, coach Alvin Gentry opts to play small and leaves the 7-foot-1 center completely out of the rotation, while on other nights, he is tasked with the most difficult task in the league as he is the injury fill-in for Anthony Davis.
In six starts this season, Ajinca is averaging 7.0 points on 61.8 percent shooting from the field, 4.8 rebounds and a block per game. 
Only with inconsistent playing time, producing steady numbers has proven to be a challenge.
Ajinca has played over 20 minutes just five times this season, while Gentry opted not to play him seven times because of match up limitations.
With such a fluctuation in playing time, Ajinca has prided himself on continually being ready to play, even if it may not be part of the initial game plan.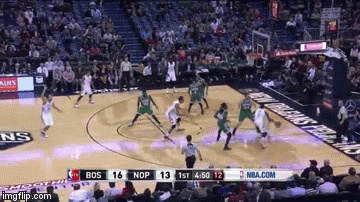 Prior to Monday's game in Orlando, we caught up with Ajinca to breakdown his daily approach to his craft, being unfazed by the outstanding play of Davis and much more.
What has been the biggest difference over the past 10 games for the Pelicans?
We started having the whole team healthy, so that's a big plus. Once we got the team together, then the chemistry started being different.
How instrumental was it to get Tyreke Evans back in the lineup for your team?
It meant a lot, he can bring a lot to the team. He is such a big force offensively, you can't actually guard him when you get him one-on-one. He plays with a lot of heart and we definitely needed that.
Plus the minutes restriction on Jrue Holiday is about to be lifted.
Yeah, that's awesome. It means we can count on him all of the time. We aren't thinking anymore about his cap being five minutes each quarter. If he is playing great, that means he can stay on the floor and play as long as he wants, that's perfect for us.
What about your role on the team, what do you do each day to stay ready for when you are called on?
I don't know what to expect every game. Some games I'll be able to play, other games, I don't know. So you have to just be ready for whatever is happening. That's really it, just be ready and produce as much as I can.
What is it like going against Anthony Davis each day in practice?
Everything you see in the game, that's what he does in practice all the time. To us, when you see stuff he's doing in the game, we're like 'Alright, we've seen that already.' Sometimes he will do some crazy dribbling and I'll wonder where did that come from, he's getting better every year and every day. It's pretty awesome to play against him and practice with him on the court.
How would you describe your relationship with coach Alvin Gentry?
Good, he's a good coach. He listens to his players. As long as you work hard, then you are going to have a good time.
Once you check out of the game, what is the first thing you look to see in the box score, or the first thing you want feedback on from the coaching staff?
My defense. I just want to see how well I did on defense. Really, that's it.