Andre Drummond wants to be in Detroit for many years to come.
He also wants the team to build a championship contender around him.
So instead of signing a max deal prior to the Nov. 2 deadline, which would pay him $120 million over five seasons, the two sides agreed to a mutually beneficial decision to wait until July.
By postponing the signing of the contract extension, Drummond will become a restricted free agent, meaning any team in the league can sign him, but Detroit has the ability to match.
As the salary cap will increase significantly, as the NBA's new nine-year, $24 billion television contract begins its first season, Drummond will be entitled to a significant raise as his contract will instead be signed under an inflated cap.
The 2016-17 NBA salary cap is expected to jump up up to $89 million, up from $70 million this season.
In 2017-18, the league anticipates a cap around $108 million, significantly increasing the average salary of every player in the league.
The Pistons clearly view Drummond as the centerpiece to their franchise and are willing to pay him as such, but by delaying the actual signing of a long term deal, the team saves a significant sum heading into free agency next summer.
Simply by waiting an additional nine months to officially retain the 22-year-old center, Detroit creates an additional $13 million in salary cap room, which the team can spend next summer to either bring in a free agent or provide a current player on the roster a significant raise.
Several players on the roster have non-guaranteed contracts after this season, potentially creating $30 million in cap room for next summer, even after providing a maximum contract to Drummond.
In three seasons, Drummond has proven to be one of the most dominant centers in the league.
The ninth overall pick of the 2012 NBA Draft has led all players in offensive rebounding each of the past two seasons and is the youngest player to ever compile multiple 400 offensive rebound seasons.
The only obstacle standing in the way between Drummond and a rebounding title is Clippers center DeAndre Jordan, as he is the only player in the league that has managed to edge him out.
If the former Connecticut star is able to continue improving as a defensive rebounder, as he managed 8.1 per game, while again posting over five offensive rebounds per game, he can become the first Pistons player since Ben Wallace in 2002-03 to win the rebounding title.
Through the early portion of the pre-season, opponents haven't had much success in boxing Drummond out, as he has pulled down an average of 12.2 rebounds per game.
Drummond needed just 30 minutes to post 17 points and 21 rebounds against the Pacers and Sunday night in San Antonio, he managed 15 rebounds.
The Pistons are looking for more ways to incorporate him into the offense.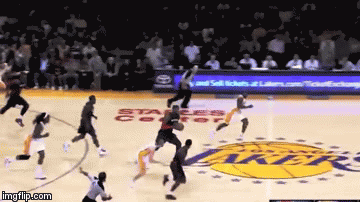 There are numerous limitations to his offensive repertoire, as Drummond is a terrible free throw shooter and only attempted 23 shots from further than 10 feet away from the rim.
This summer, Drummond has worked extensively to expand his game, taking to Instagram to show that he has polished his spin moves, improved significantly as a ball handler (in the post and in open court) and is developing a jumper from the elbow.
An expansion of his shot selection is a necessity, as nearly a quarter of his field goal attempts throughout his career have been dunks. Drummond has experienced much success — slamming the ball home 464 times in his career — but predictability is practically extension in the NBA.
Anytime he catches the ball in the post, opponents simply just send him to the foul line instead of risking a dunk. The tactic is a smart one, as he is a career 39.7 percent free throw shooter, and is on pace to supplant Jordan as the worst free throw shooter in NBA history.
Drummond has been sent to the free throw line 852 times in his career, but has managed to convert just 338 times.
Jordan set the mark for futility at the free throw line by converting just 42.2 percent of his first 1,000 career foul shots, usurping Dale Davis for the dubious honor as the worst free throw shooter ever.
Davis converted 52 percent of his first 1,000 attempts at the foul line.
Detroit believes Drummond can make NBA history in positive ways and will wait until next summer to give him every cent possible to prove it.