Plenty of minutes will be available for Giannis Antetokounmpo in Milwaukee next season.
An unlimited cap of playing time is the reward when an organization believes a single player is capable of playing every position on the floor.
The 6-foot-11 forward out of Greece has the handle of a point guard, the size of a center and enough athleticism to defend any wing in the league.
For his wide array of talents, perhaps the greatest asset Antetokounmpo brings to the table is just being a basketball player.
The Bucks can plug the 20-year-old at any position on the floor, but not during the season opener. Antetokounmpo is serving a one-game suspension on opening night against New York for intentionally running into Bulls forward Mike Dunleavy during Game 6 in the opening round of the 2015 playoffs.
Once he returns to the floor, Milwaukee will likely start Jabari Parker, the second overall pick of the 2014 NBA Draft, at power forward and Antetokounmpo will likely spend a majority of his time at the small forward position.
His 7-foot-3 wingspan enables him to defend any front court player while his speed and agility provides him the ability to defend guards on the perimeter.
If Antetokounmpo can develop into a viable long range shooter, he will shore up the lone area of weakness in his game.
As a rookie, he proved to be an average 3-point shooter, converting 41-of-118 attempts (34.7 percent) from beyond the arc.
Once Jason Kidd was named coach last season, Antetokounmpo appeared hesitant to launch from long distance, and his percentage suffered greatly.
Antetokounmpo launched just 44 shots from 3-point range and converted 15.9 percent of his attempts, the lowest percentage of anyone in the league to attempt at least 30 shots from beyond the arc.
During his first professional stint, with the Greek team Filathlitikos, Anttokounmpo usually played point guard. Through his first two seasons in the NBA, he hasn't established himself as much of a facilitator, dishing out five or more assists 19 times in 158 career appearances.
During his sophomore season, the 15th overall pick of the 2013 NBA Draft was able to double his scoring average, increased his shooting percentage by nearly eight percent and proved to be an effective rebounder.
Antetokounmpo was one of just 11 players to record at least 70 steals and 70 blocks last season, but his malleable style of play has yet to be recognized in fantasy basketball.
Yahoo! has accommodated a few players with the ability to lineup at multiple positions, such as Tyreke Evans of the Pelicans was listed as a point guard, shooting guard and a small forward last season.
This season, Evans is available to play at either guard position, as New Orleans primarily lined him up at point guard in place of the injured Jrue Holiday.
Following the announcement of Antetokounmpo's likelihood of playing anywhere on the floor, Yahoo! hasn't budged, listing him just as a small forward.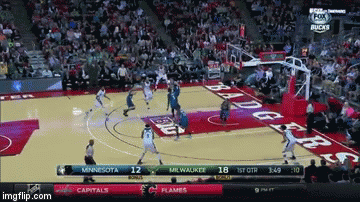 Kidd entrusted Antetokounmpo as the season progressed, leaving him on the floor for an average of 34.8 minutes a night after the All-Star game, an additional five minutes per game than prior to the break.
Twice, coincidentally against  Kidd's former team — the Brooklyn Nets — Antetokounmpo played the entire night, logging 53 minutes in a triple overtime loss in March, and leading the team to a triple overtime victory by totaling 18 points, 12 rebounds, four assists and three steals.
All of the tools are present for him to be a special player in the NBA and his bursting with potential, but for some reason, he has yet to put everything together.
Antetokounmpo has posted just 12 double-doubles in his career and has totaled over 12 rebounds just twice in a single game.
Yahoo! has Antetokounmpo ranked as the 59th best prospect in fantasy basketball and fantasy drafts have essentially followed suit, as he is being selected on average with the 62nd overall pick.
There are going to be plenty of minutes available for Antetokounmpo, as the franchise believes he can play any position and provide in a multitude of ways on a nightly basis.
Fantasy owners are taking a bit of a risk when selecting Antetokounmpo, as he doesn't have a specific niche in fantasy basketball, but he can provide a little bit of everything.