Year three is the time Milwaukee is hoping Giannis Antetokounmpo will transform from a prospect oozing with talent into a legitimate star.
The 20-year-old possesses a mixture of attributes never previously seen in the NBA, as he is a 6-foot-11 (and still growing) small forward that has dabbled in playing point guard.
The possibilities of ways to attack opponents with Antetokounmpo seem endless, but after two seasons in the league, the Bucks need to start providing a clearly defined list of responsibilities.
The front court in Milwaukee seems to be falling into place, with the signing of center Greg Monroe in free agency and the return of Jabari Parker, the team's stretch power forward, from a torn ACL suffered just 25 games into his NBA career.
Antetokounmpo is slotted to become the small forward and has spent his off-season in the gym and traveling.
His first stop was to watch the Bucks 2015 NBA Summer League team in Las Vegas, and his workout sessions have produced a stunning visual transformation.
The additional muscle is a necessity, as Milwaukee has often asked him to guard opponents of all sizes, even leading to an awkward exchange with New Orleans star Anthony Davis.
Along with his visit to Las Vegas, the 15th overall pick of the 2013 NBA Draft played in the first NBA game on the African continent to open up the month.
Antetokounmpo made his presence felt from the opening tip, as he secured the loose ball and raced tot he rim for a dunk.
During the exhibition contest in Johannesburg, Antetokounmpo totaled 20 points on 10-of-17 shooting from the field to go along with eight rebounds, three steals and two assists in 21 minutes.
The performance provided another confirmation the Greek forward can do a bit of everything on the court.
Few players are able to spring the entire length of the court in just three dribbles or provide the overall defensive impact of Antetokounmpo.
As a rookie, Antetokounmpo manged to total 60 steals and 61 blocks, his improvements last year vaulted him into rarefied air. Only 11 players managed to post over 70 steals and 85 blocks last season.
With Antetokounmpo helping anchor a defense that surrendered 97.4 points per game — eighth fewest in the NBA — Milwaukee finished the season 41-41 to capture the sixth seed in the Eastern Conference.
Unlike many of the other players to accomplish the feat, Antetokounmpo has managed to turn his defensive impact into easy transition baskets.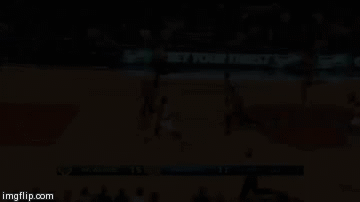 At the rim, he was a force, as Antetokounmpo converted 63.6 percent of his attempts, as his 7-foot-3 wingspan enables him to flip in shots that simply aren't available to all players when they attack the forest of arms awaiting them in the paint.
The main area of concern Milwaukee has to address this off-season is his ability to generate points away from the rim.
Even the confines of the paint failed to provide reassurance for Antetokounmpo, as he made just 28.2 percent of his attempts between three and 10 feet out.
During his first season playing for Jason Kidd, the 3-point shot was essentially eliminated from the repertoire of Antetokounmpo, as he attempted just 44 shots from beyond the arc. As a rookie, he converted 41 times from 3-point range.
In his debut season, Antetokounmpo converted 34.7 percent of his attempts from long range, but a year ago, his percentage fell to 15.9. He failed to convert a 3-point shot in his final 17 regular season appearances and missed his only attempt from beyond the arc during a six game opening round series against Chicago.
A year ago, Antetokounmpo manged to provide an impact rebounding the basketball, as his 542 total rebounds were the most on the team.
The only aspect of his game that is missing is consistency, something that is expected for a player that won't celebrate his 21st birthday for another four months.
In 158 career appearances, Antetokounmpo has managed to total just 12 double-doubles, with 10 coming last season. Sixty one player compiled more double-doubles.
Antetokounmpo anticipates more responsibility next season from Kidd and with the team looking to establish a defined star, he will become that once he has a defined role.