During his senior year at Wisconsin, Frank Kaminsky toppled a seemingly unbeatable Kentucky team, carried the Badgers to the championship game and established himself as one of the most promising prospects in the 2015 NBA Draft class.
Charlotte wasted no time, selecting him with the ninth overall pick, expecting him to provide some much needed 3-point shooting while also using his 7-foot frame to defend and rebound the ball.
In his first professional game, against Oklahoma City at the 2015 NBA Summer League in Orlando, Kaminsky took over the third quarter, connecting two times from beyond the arc, converting a shot plus the foul, then knocking down another 3-pointer, accounting for 12 consecutive points for the Hornets.
Kaminsky posted a game-high 19 points and 12 rebounds, but it wasn't to defeat the Thunder.
Sunday against Memphis, Kaminsky connected on 6-of-8 attempts from the field and made 2-of-3 shots from long range as part of a 14 point, eight rebound, two block effort.
Following the game, Shatter the Glass caught up with Kaminsky to discuss his goals for next season, how rigorous film sessions are in the NBA and much more.
How has the atmosphere been with Charlotte so far?
Everyone has been great, everyone is just talking to me. They are providing motivation and getting my confidence level up. Michael Kidd-Gilchrist has been on the sideline at some of our games, I'll hear him talking behind the bench, telling me just to shoot it and not to think about it. It's been great having some of the older guys here.
What skill-set do you want to add to help with your transition into the NBA?
There's a lot of things I want to work on, I want to become a better defender. I have to get better in pick-and-roll situations. Offensively, I need to keep adding things to my game. I like being a matchup nightmare, that's what I want to be in the NBA.
To get better defensively, what are some of the specific areas you want to work on?
A lot of it is anticipation in the NBA. Some sets are easy to read, some aren't. You have to do a lot of your work early, in college, you don't necessarily have to do that, but in this league you have to. I just have to be able to read situations and read people better.
Is that going to be the biggest difference for you going forward, studying game tape?
Yeah, it's a lot different. There's a lot of differences on offense and defense. On offense, you've got to move a lot faster and you've got to make quicker decisions. On defense, you have to be just all around, you've got to be faster.
With these Summer League games, do you go back and review the tape? I know there isn't much turnaround time. 
I watched film on last night's game this morning with one of our coaches. Even practices, we were doing two-a-days and I watched film on the first practice in between the two practices. It's a lot of film and a lot of looking and analyzing situations.
How would you describe the practice sessions you've been through so far?
It's more intense and you get a lot more done in a quicker amount of time. You really have to be able to learn things quickly. Basketball is your profession now, you've got to be able to do things immediately. It's a lot more focused and you pay a lot more attention to detail.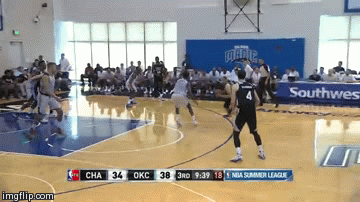 Have you worked specifically with Patrick Ewing on an area of your game?
He's been the head coach (in Summer League), so he points out anything. He's been helping everyone. Then all of the other assistants get more specific with us, watching film with individual players, things like that.
What would have to happen during this Summer League tournament for you to deem it a success?
I just want to continue to get better. Improve on the things the coaches have been showing me that I'm not doing so well now. I want to be way better by the last game, so much better than I was in the first game.