All New Orleans has to do to snap a three-year playoff drought is win its regular season finale.
If the Pelicans can string together an impressive performance for 48 minutes against the reigning champions, they will knock out Oklahoma City to claim the eighth and final playoff position in the Western Conference. 
The reward would be a seven game series against Golden State, the team that compiled the best record in the NBA during the 2014-15 season.
The Warriors have already won 66 times this season, 22 more than New Orleans, a team that hinges much of its success on a 21-year-old.
Anthony Davis has continued to deliver.
During a must-win contest against Minnesota Monday night, the All-Star forward posted 24 points, 11 rebounds, six blocks, five assists and two steals. More importantly, he sank each of his eight attempts at the foul line.
Unlike most other 6-foot-10 players in the league, free throw shooting has never been a detriment for Davis, but following a devastating 95-93 loss, as Davis converted just 6-of-14 attempts at the foul line, he wouldn't leave the floor until he converted 100 free throws.
Davis has emerged as one of the most dominant forces in the league, establishing himself as an MVP candidate on a 44-37 team, by leading the league in blocks per game for the second consecutive season (2.9) while adding 24.3 points, 10.2 rebounds, 2.2 assists and 1.5 steals per game.
With San Antonio in need of a victory to secure the second seed in the Western Conference playoff race, it will focus all of its defensive attention onto Davis and force another player to elevate their game.
For the Pelicans, that player has to be Tyreke Evans.
The 2010 NBA Rookie of the Year has had to continually adapt during his two-year tenure with the Pelicans.
Originally brought in to play small forward, a leg fracture to Jrue Holiday has forced Evans to abandon the role and start playing point guard.
Holiday has played twice following a 42 game absence, but is playing under a minutes restriction and has yet to start.
Evans has proven to be a viable cog in the Pelicans attack, pouring in 20 or more points on 25 occasions, dishing out 10 more more assists 15 times as he has tallied 17 double-doubles and a triple-double this season.
His incredible handle and ability to get into the paint at will has made him a perfect complimentary piece alongside Davis.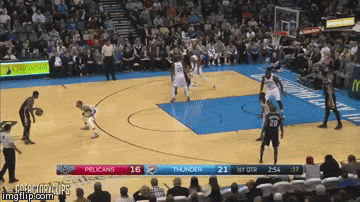 New Orleans has entrusted Evans enough to keep the ball in his hands for 6.4 minutes per game, an identical figure to Raptors All-Star point guard Kyle Lowry.
Evans has been started as a guard 60 times this season and has steadily produced, averaging 17 points, 6.8 assists, 4.9 rebounds and 1.2 steals per game.
With Holiday out of the lineup, the Pelicans have posted a record of 25-17.
Pelicans coach Monty Williams has given Evans the freedom to run the offense, and even though he has dished out 510 assists — the most of his six-year career and the 10th highest in the NBA this season — he develops a tendency to call his own number, even when his shot isn't falling.
The 6-foot-6 guard out of Memphis is connecting on 44.5 percent of his attempts from the field this season, but has managed to convert less than 40 percent of his shots on 28 occasions.
The Spurs have held Evans to 34.9 percent shooting from the field during their head-to-head match-ups with New Orleans this season.
During 19 of those contests, Evans still hoisted at least 13 shots from the field.
Along with his erratic shot selection, the fourth overall selection of the 2009 NBA Draft he can be easily coaxed into turning the ball over.
Fifteen times this year he has committed at least five turnovers in a game.
Against San Antoino, he has managed to maintain his composure, with just five turnovers in three meetings this season, helping the Pelicans capture victory twice.
A victory over the Spurs isn't the only way for New Orleans to secure a playoff berth, it can advance if the Thunder drop its final contest.
A loss for Oklahoma City is highly unlikely, as it faces a Timberwolves team that has lost 11 straight contests and has little interest in winning, as one more defeat would secure the best odds in the 2015 NBA Draft lottery.
The Pelicans are close to achieving a goal they clearly set out at the beginning of the season, they just need Evans to play alongside Davis.
Or get out of his way if his shot isn't falling.